The 2015 New Orleans Bookfair will be December 12, 2015, 11 AM – 5 PM at Clouet Gardens, a lovely outdoors space on Clouet St. by Royal in the Ninth Ward.
This is a FREE Event for you to come enjoy. Kids and other small creatures welcome!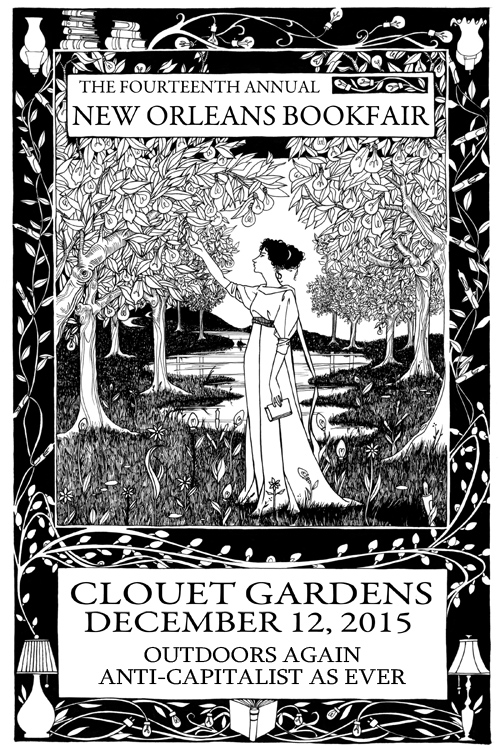 Want to volunteer? We need volunteers for the day of the Bookfair! Please sign up here.
---
BOOKFAIR EVENTS @ CLOUET GARDENS

10 a.m.: Vendor Set-up, Coffee Provided!
11 a.m.: Bookfair Begins
11 to 1 p.m.: Facepainting
11 to 1 p.m.: Live Music: Eight Dice Cloth
12:30 p.m.: Free meal provided by Community Kitchen!
1 to 3 p.m.: Poetry and Book Readings
Chris Clavin reading and musical performance (Ghost Mice/Planet X records)
A selection of local poets including Jose Torres Tama, Sam Burks, Georgios tsangaris and more!
2-4 Storytime with Charlotte
3 to 5 p.m.: Live Music: The Slick Skillet Serenaders

BOOKFAIR PANELS @ TIGERMEN DEN (3113 Royal Street, around the corner from Clouet Gardens)

12:30 to 1:30 p.m.: Autonomous Zone: Open discussion on the group 'Autonomous Zone,' a radical, 12-step alternative, harm reduction-based, substance support group open to anyone on the substance use spectrum — not exclusive to sober folks.
2 to 3 p.m.: Radical Motherhood: Doulas and midwives gather to discuss issues facing radical birth-workers in 2016 New Orleans, particularly access to care for incarcerated mothers.

3:30 to 4:30 p.m.: Psychogeography: What is the meaning of place — spiritually, ritually and metaphysically? We have convened top psychogeographers, including the father of Surregionalism, Max Cafard, to address this not at all made-up field's most burning questions through a local lens." Panel includes Cafard, Darin Acosta and Robin McDowell.
---
NEW ORLEANS BOOKFAIR **EXPLODES** BACK INTO THE GREAT OUTDOORS
No building can contain it!! The 14th Annual New Orleans Bookfair will be OUTDOORS once more, downtown in beautiful Clouet Park in the Bywater (on Clouet between Chartres and Royal) on December 12, 2015, from From 11am to 5pm.
This fine New Orleans tradition has for 14 years gathered together independent, global and local booksellers, publishers and writers to celebrate New Orleans literary culture… and provide everyone the opportunity to buy books, comics and zines.
Admission is free. The Bookfair is kid-friendly, with dedicated kids' activities and entertainment. Bring your dogs and cats too!
We are particularly pleased to have the bookfair outside, where so many great Bookfairs have been in years past. It's a superb opportunity to do your holiday shopping and support independent book writers & publishers!
There will be poetry, performances and provocative panels pinpointing pertinent political problems.
We hope to see you there!
###
The New Orleans Bookfair Organizing Collective is all-volunteer unpaid horizontal organizing committee comprised of local writers, poets, publishers, librarians, independant book sellers, activists and educators.
Please contact abookfair@gmail.com for any questions. Organizers are standing by to speak with you!
---
UPDATE: The Bookfair Wants Your Help!

Remember when the Bookfair used to be outdoors?? Awesome people are making it happen again for 2015, and we need your help!
We're looking for a Volunteer Coordinator, help with promotions and media reps. If you have other skills or ideas to contribute, we'd like to hear those, too! The New Orleans Bookfair Organizing Collective is a horizontal committee comprised of local writers, poets, publishers, librarians, independent booksellers, activists and educators.
If you're interested in helping (or have any other questions), please email the New Orleans Bookfair.
We'd also love for you to follow us on Twitter, visit our Facebook page & gaze at the gorgeous poster Erin Wilson did for us last year…