The 2017 New Orleans Bookfair will be December 9, 2017, 11 AM – 5 PM at Clouet Gardens, a lovely outdoors space on Clouet St. by Royal in the Ninth Ward.
This is a FREE Event for you to come enjoy. Kids and other small creatures welcome!
lookit our beauteous poster by Happy Burbeck!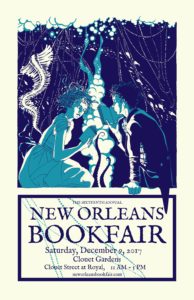 ---
2017 Exhibitors
A Scribe Called Quess

alisha rae

Alluvium Press

Andrea Panzeca

Anjle Latiha C.

ANTIGRAVITY Magazine

Assemblage

Big Class

The Iron Lattice

Democratic Socialists of New Orleans

Mind to Marketplace

Community Records

& Hey! Cafe

MonkeyWrench Books

Astropress

& Sisters In Christ

Earth First! Journal

gutwrench press

Iron Rail Book Collective

Louisiana Books 2 Prisoners

Max Seckel

Planetary Magnetics Corporation

Ben Passmore

An Illustrated History of Domestic Arthropods

Erin Seidemann

GOD-SON PUBLISHING

Neutral Ground Press

BLOOM by Brittany Traveste

The Free Witch Press

New Orleans Public Library

Neighborhood Story Project

Kiernan Dunn

Nola DNA / Codex

the Mama Calendar

Dogfish New Orleans

Unlikely Stories

Bayou Magazine

Dogfish New Orleans

Trembling Pillow Press

Dream Wisely

La Terre Institute for Community & Ecology

Damyionne Brown

Slam New Orleans & NO Youth Open Mic

Rubber Library & Flower Bodega

Esoterotica: Original Erotic Readings by Local Writers
---
2016 PRESS RELEASE
15th Annual New Orleans Bookfair persists, perdures, refuses to grow up
What: 15th Annual New Orleans Bookfair
Where: Clouet Gardens, in the Ninth Ward
When: Saturday, December 10, 11am-5pm
What were you doing fifteen years ago?
Fifteen years ago we were having a Bookfair!
We've never strayed too far from those origins. We're still free, still fun, still family-friendly, still feisty, still fringe-y, still as delightfully rough around the anti-authoritarian edges.
As every year for the past fifteen, we will gather independent authors, publishers, zinesters and other literary riff-raff to ply their trades and hawk their wares, focusing as always on the New Orleans locals. There will be a fun kids' area and lots of activities for all ages.
Remember all the way back to last year, when the Bookfair was outdoors, down in Clouet Gardens? Remember how ineffably pleasant that was? We are delighted and grateful to announce we'll be back at Clouet Gardens again, down in the Ninth Ward on Clouet St. between Royal and Chartres. Once more attendees may browse books, periodicals and other printed ephemera in a sublimely attractive setting that is, notwithstanding its loveliness, still mercifully untainted by that twee, clean-cut boho-yuppie instagram rooftop-party aesthetic.
The Bookfair is beautiful without being precious. You know? Like a lover with bad teeth.
Of course, there's more to a Bookfair than commerce, and this year we have an exciting blend of new and old-style activities. Throwing it back to the VERY FIRST Bookfair, we will have ROLLING READINGS taking place inside a bus! Or perhaps a very large non-bus, depending what we can get our mitts on! But probably a bus! This sucker will be poetry (& prose) in motion!
There will be panels, illuminating and edifying, on divers subjects. Bookfair participants and attendees throughout the day will enjoy live acoustic music, including a birthday set from Ex Specter, the magnetic musical force of nature a/k/a Kallie from GLAND.
Poems will be read! Coffee will be served! Children will be distracted!
There will be a free meal!
It will be a grand day in the gardens.
Please join us for this, the fifteenth of infinite bookfairs.
The New Orleans Bookfair Organizing Collective is all-volunteer unpaid horizontal organizing committee comprised of local writers, poets, publishers, librarians, independant book sellers, activists and educators.Please contact abookfair@gmail.com for any questions. Organizers are standing by to speak with you!If you're interested in helping (or have any other questions), please email the New Orleans Bookfair.We'd also love for you to follow us on Twitter, visit our Facebook page & gaze at the gorgeous posters from previous years: